Is it safe in Hokkaido? Could I be exposed to radiation? These are questions that everyone thinking of a ski or snowboard trip to Japan would have. And understandably so.
The fact is that Hokkaido was almost unaffected by the sad events that occurred in Japan's Tohoku area last March. The Hokkaido Government have been monitoring radiation levels in Hokkaido and have been publishing the results in multiple languages on this website.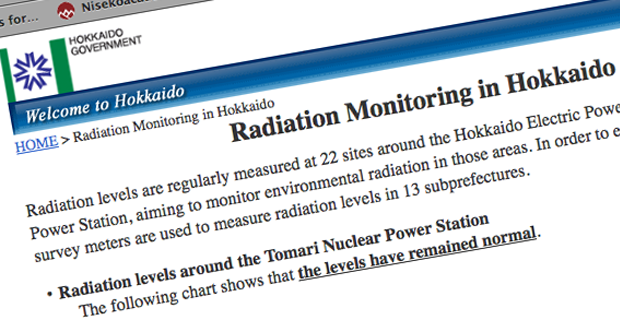 Hokkaido Government says:
"Radiation measurements have been made once daily since 22 October. This follows the Japanese government's decision to lift the restriction in the emergency evacuation preparation zone on 30 September, confirming a marked decline in radioactive emissions from the Fukushima Daiichi Nuclear Power Station and concluding that the emissions would not increase again soon. There will be additional measurements when any unusual readings are recorded."
So if you're still undecided about a trip to Hokkaido this winter, please don't let concerns about radiation deter you from coming to Niseko and skiing/snowboarding some amazing powder.